50th ANNIVERSARY OF WORLD MEDICAL TENNIS SOCIETY IN TURKEY
MEGASARAY TENNIS ACADEMY
MEGASARAY TENNIS ACADEMY is built recently and is 3 km away from the Cornelia Diamond Golf Resort and Megasaray Belek. There are a total of 21 tennis courts, 17 Clay + 4 Hard courts (1 Center Clay Court) and 4 are hard courts. MGA is the largest tennis center in the region and secured area with just 1 entrance. Megasaray Tennis Academy will be EXCLUSIVELY reserved for WMTS Turkey Event between 9th-15th October 2021.
38 Countries are meeting in
1 Congress
– Health Tourism & other Scientific Lectures at Congress
2 Tennis Tournaments
– WMTS PHYSICIANS Tennis Tournament (17 Clay Courts) & WMTS FRIENDS Tennis Tournament (4 Hard Courts)
3 Events
– Opening Ceremony Cocktail of WMTS Turkey & Nations Evening of WMTS Turkey & Prize Ceremony- Gala Dinner of WMTS Turkey -The 50th Anniversary of WMTS Celebration
'' Better – Together 🙂 ''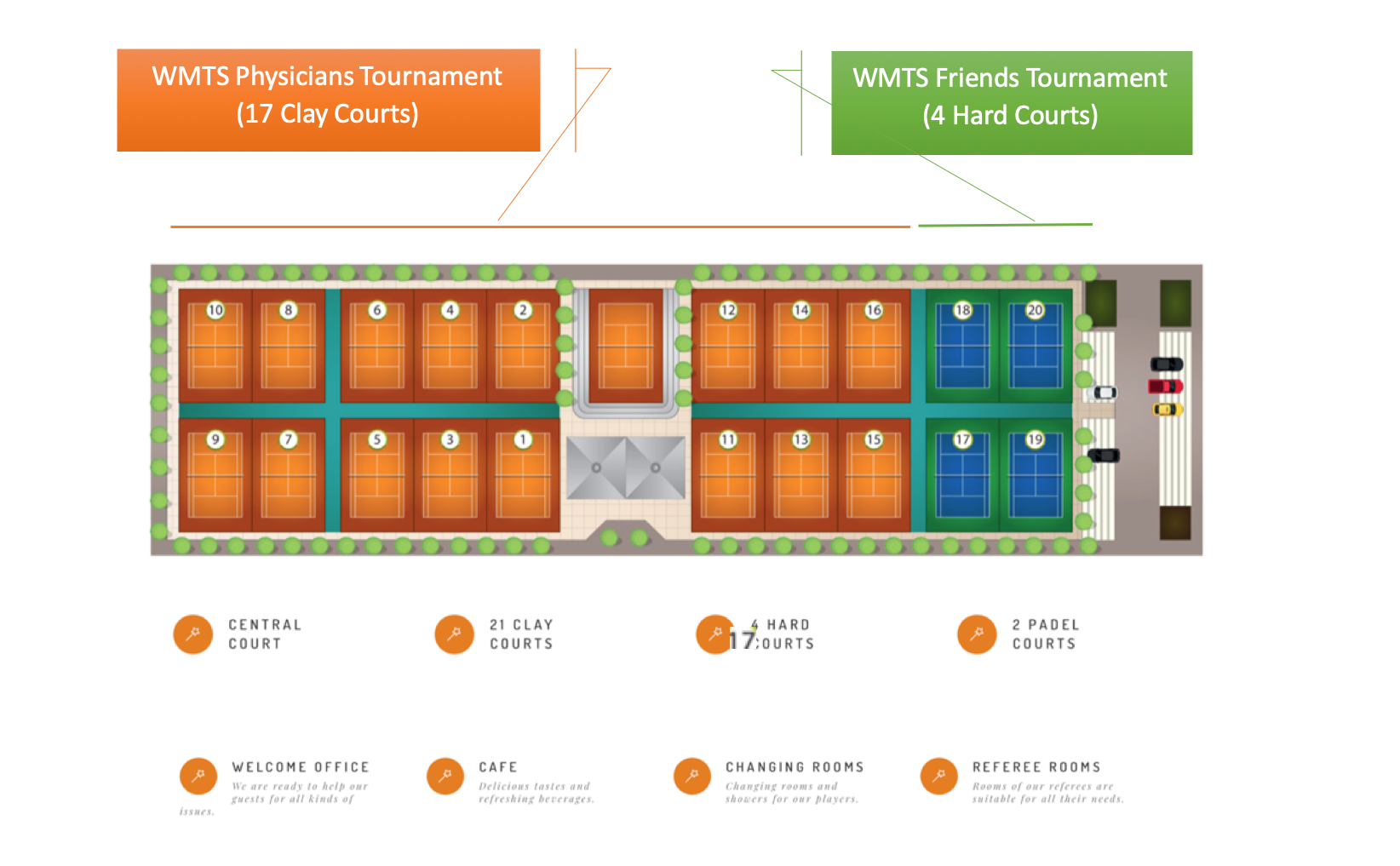 WMTS FRIENDS Tennis Tournament (4 Hard Courts)
As WMTS Rules, there is only 1 person (Husband-wife of life partner) can play in the WMTS PHYSICIANS Tournament. But according to the more interest to Wmts 2021 Turkey Event, there are many Non-Physician Tennis players ( Family members or Friends of WMTS PHYSICIANS), they also want to play tournament and also enjoy the big WMTS Events & Parties.
So; WMTS FRIENDS Tennis Tournaments will be open for Family Members or Friends of WMTS PHYSICIANS.
Friends will play separated tournament than Wmts Physicians tournament.
The Friends Tournament will be held in 4 Hard Courts just near the Physicians Tournaments clay courts.
So WMTS Physicians and WMTS Friends will have tournament in the same place but different tournaments. It will be a full of Tennis people and atmosphere.
MEGASARAY TENNIS ACADEMY
Services at Megasaray Tennis Academy:
• Tournament Info Desk & Board • Assistance Service of WMTS Turkey • Social Area which the Spectators can watch all the matches and the courts. • Bar where you can get Water – Tea- Coffee – Fruits FREE of Charge at the WMTS Event • Bar where you can get Water – Tea- Coffee – Fruits FREE of Charge at the WMTS Event • Warm-Up Jogging Tracks • Changing Rooms – WC • Reffreee Rooms• Tournament Offices• Free shuttle service to the Cornelia Diamond Golf Resort and Megasaray Hotel Belek ( 4 min-7 min) • Tennis Shop (Extra Service): Stringing + Tennis Materials (Shoes,Rackets,Balls,Socks, Tennis Clothes…etc)
IMPORTANT INFORMATION :
In Antalya around 1000 hotels are Ultra Inclusive Hotels, Not like City Bed & Breakfast Hotels.
Thats why if a person is not staying in the hotel and want to enter these hotels, the hotels charge 50.-euro per person for 6 hours.Even you pay Gala or Nations evening cost at registration fee, that's an other fee from Ultra Inclusive hotels.
Therefore, Turkish medical tennis Society already booked 100 rooms from each hotel (Totally 200 rooms).
We definitely recommend you to book the 2 Event Hotels by Turkish medical Tennis Society.
If you want to book any other hotels there will be EXTRA COSTS  and you have to pay :
2 ways airport Transfers per person 80.euro
3 Evenings Daily Usage Fee (Welcome Cocktail, Nations Evening, Gala Dinner ) 3 evening x 50 euro : 150 euro Per person.
3 evenings Taxi x 2 ways x 30 euro. : 180.-euro per person
3 times Scientific Lecture Visits Daily Usage Fee  3 evening x 50 euro : 150 euro Per person.
3 times  Scientific Lecture Visits Taxi x 2 ways x 30 euro. : 180.-euro per person
Tennis Club Shuttle taxi (its in the field little distance from hotel: 6 day x 2 return x 30 euro : 360.-euro per person 
So, if you don't book main hotel by Turkish Medical Tennis Society you will have to spend TOTALLY 1100.-EURO per person 
Please contact us, for more details , we are here to help you and find the best solutions.
Turkish Medical Tennis Society
+90 532 777 92 57
ACCOMODATIONS
more information about the hotels & facilities
PRACTICAL INFO OF 50th WMTS CHAMPIONSHIP PLAYERS
All matches will be played in Megasaray  Tennis Academy .
Tennis matches will be held in 17 Clay at Megasaray Tennis Academy from 08:30-18:30
Tournament registration of players closes on the 1st of July, 2021 (Friday).
Timetables for singles players will be announced online on the 1st of October 2021

If there is rain, we will split the games to the other courts. 

We thus kindly ask our players to have hard court footwear, also.
Megasaray Tennis Academy  is a Brand New 16 Clay 4 Hard Courts and also WC , center court, Referee rooms, service rooms, public area.
Every tennis match will be provided with 3 new  balls and bottled water for each player.
Shuttle bus services from Cornelia Diamond Golf Resort  & Megasaray Hotel to tennis courts will be provided throughout the whole tournament.
You can always track the timetables of maches, results and tournament progress on our official website.

09:00-19:00 REGISTRATION @ Cornelia Diamond Golf Resort & Megasaray Hotel Belek . All participants are requested to Register onsite.

09:00-18:00 Training day. Registration is Open from 10th October 2021 ONSITE (@REGISTRATION desk). Registration is banged on First come First served bases
SOCIAL EVENTS & TRIPS :
where to go, best locations for daily trip.