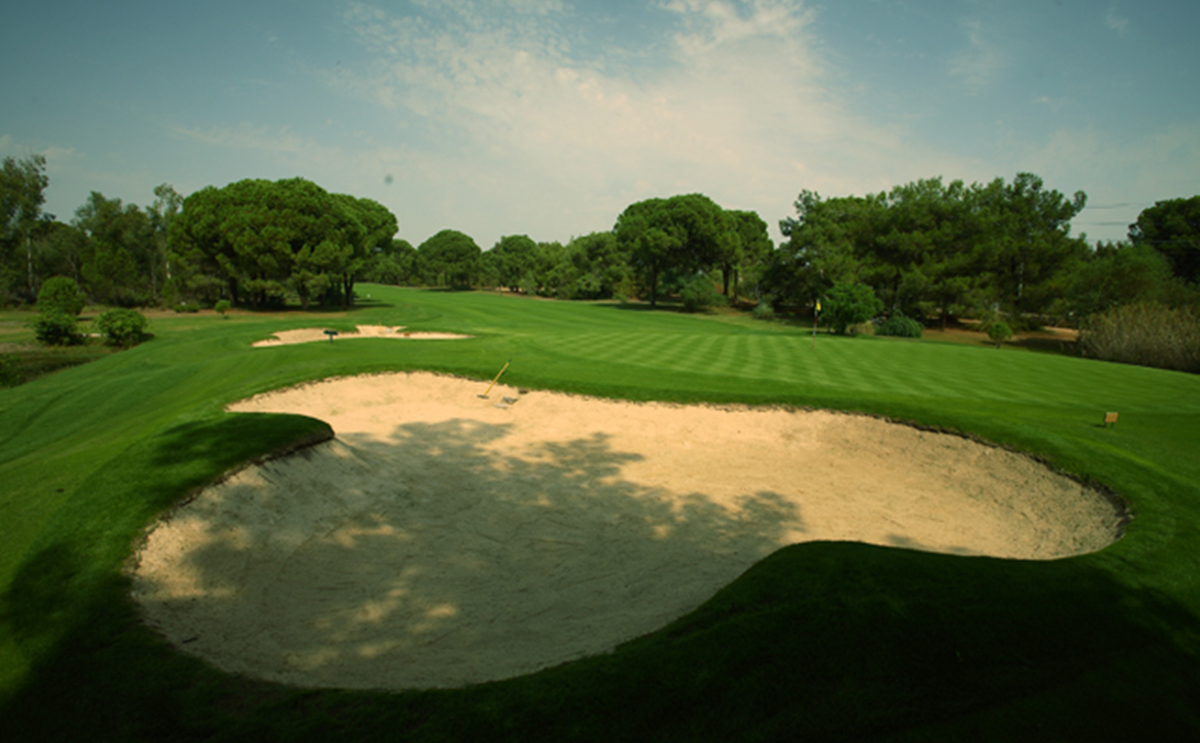 The 27-hole National Golf Club was opened in 1994 and established on an area spanning 920 acres covered with pine and eucalyptus trees.  It is the first golf club in Turkey that was built according to the standards of the EPGA (European Professional Golfers' Association) enabling the hosting of international golf tournaments. The National Golf Club was chosen as the 42nd best golf club out of 1500 golf clubs in the Mediterranean in the year 2000. In 2001, it rose to 39th place among European clubs.  In 2002 it was named as the 16th best golf club in the world by Golf Magazine journal. In the ranking of the world's top 100 golf courses in 2003 made by Germany's Golf Journal it came in at number 4. The National Golf Club was designed by David Feherty and David Jones in such a way as to preserve the natural scenery of the area. It was built by the American "Aquaturf" company in accordance with their design provisions. There is an 18-hole Championship course, 9-hole Academy course, 40 bay driving range, 2 putting greens, bunker and chipping practice area.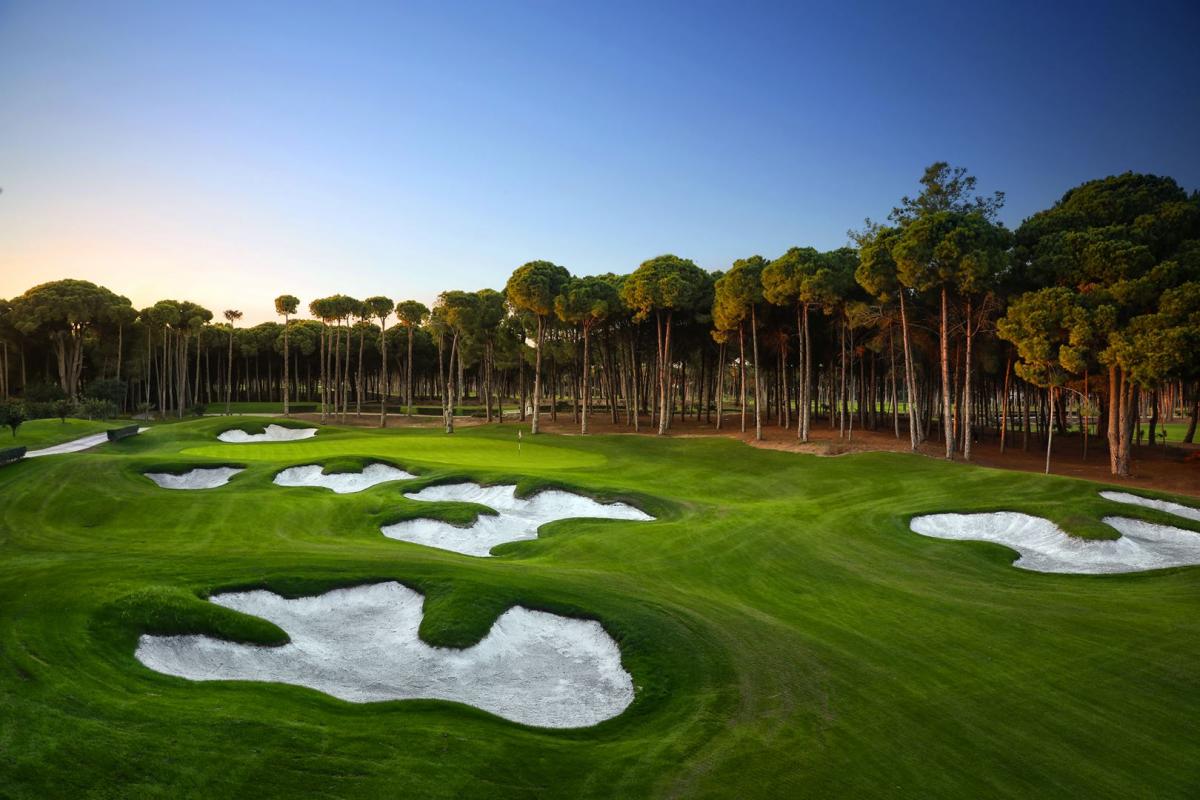 The Carya Golf Club was designed by Thomson Perrett & Lobb Golf Course Architects, founded by five time British Open Champion, Peter Thomson. It is the first golf course on Turkey's Mediterranean shores to be built according to the classic Heatland style. The 18-hole, par 726,571 metre course is among the premiere Championship golf courses in the region.  The Carya Golf Club runs between pine and eucalyptus trees and challenging sand ridges, offering golfers a demanding yet enjoyable golf experience. Beside the courses there is also a Golf Academy. The exceptional Carya shrubs add a special attractiveness to the courses and are grown in Carya Golf Club's own nursery garden.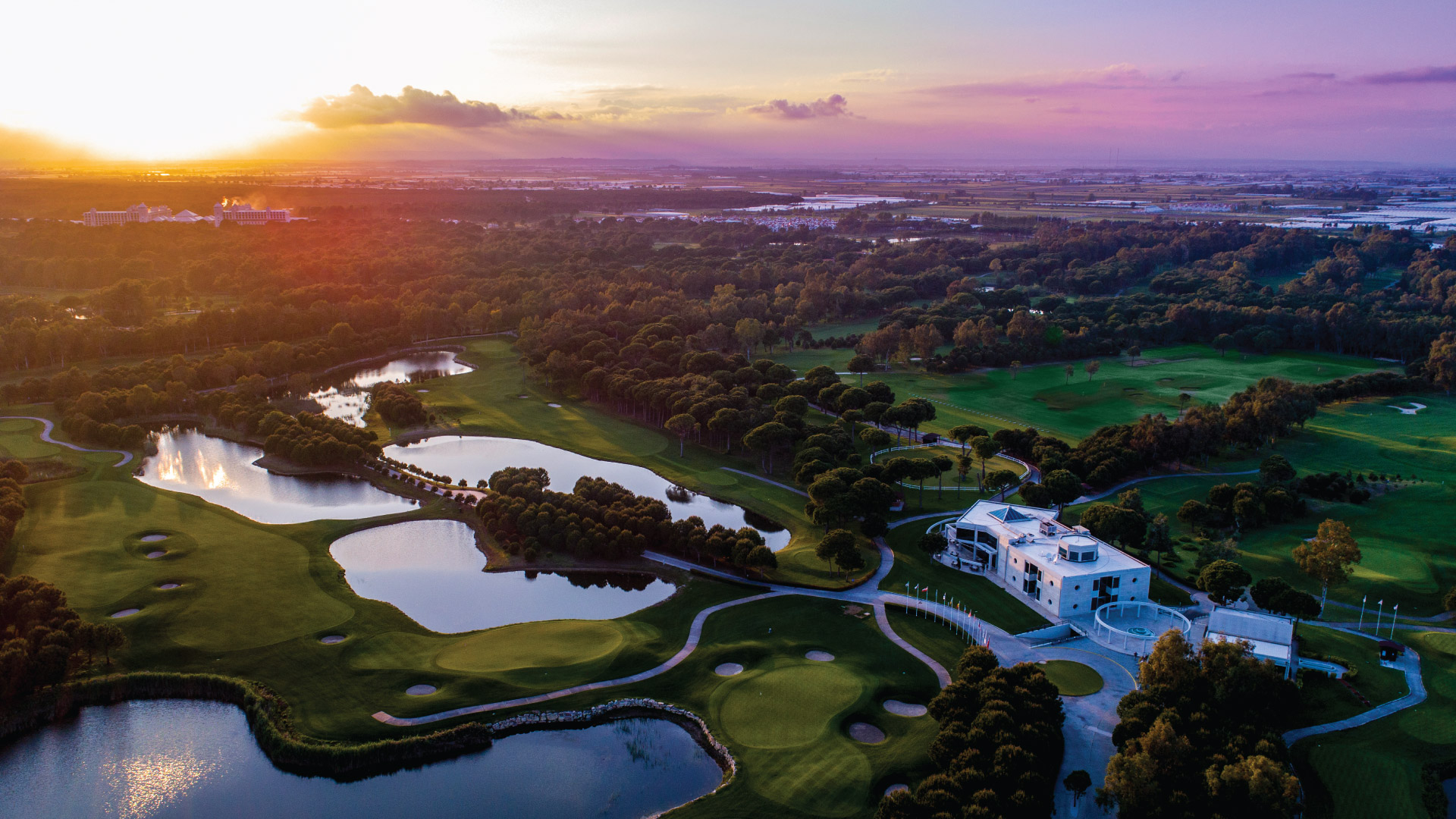 The design of the Antalya Golf Club courses was developed by the world renowned architects of the European Golf Design company. The courses prove both enjoyable and challenging for golf enthusiasts. The design consultant was professional golf player, David Jones.
Pasha
The golf course of Pasha was opened in 2002 and is spread over an area of 550,000 square meters. Pasha, with 5731 meters par 72, has a combination of different challenges that test all players with low and high handicaps alike. Situated within pine trees resembling tall beach umbrellas and lakes, Pasha offers the ultimate enjoyment in golf.
PGA Sultan
The PGA Sultan course was built over an area of 775,000 square meters in the year 2003. With 71 par and 6477 metres it is one of the most popular courses among golfers. European Golf Design and David Jones worked together on the planning of this course, which is in perfect harmony with the forested landscape. The PGA Sultan has a high degree of difficulty and was designed for the confident golfer.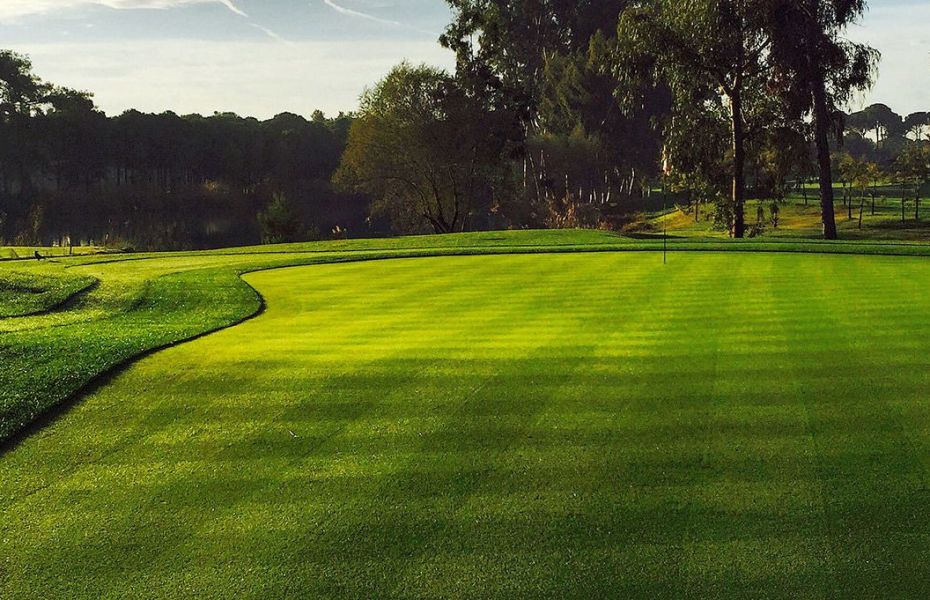 The Kaya Eagles Golf Club is a themed course that was designed by the internationally renowned designer David Jones within a forested area of 650,000 square meters.  It opened its doors on 17 November, 2007. The Kaya Eagles Golf Club provides the opportunity for professional golfing with its 18-hole, 71 par and 5877 metre golf course. It offers a unique experience for Turkish and international golf enthusiasts. Kaya Eagles Golf Club has joined forces with one of Europe's most prestigious golf clubs, the Eagles Charity Golf Club. The club has one river pond along the course and four fixed water-levelled ponds. It has a distinguished place among the golf clubs in the region and includes fairways surrounded by lakes and trees, 56 bunkers, greens of approx. 600 square meters, and white, yellow, and red tees covering approx. 150 square meters.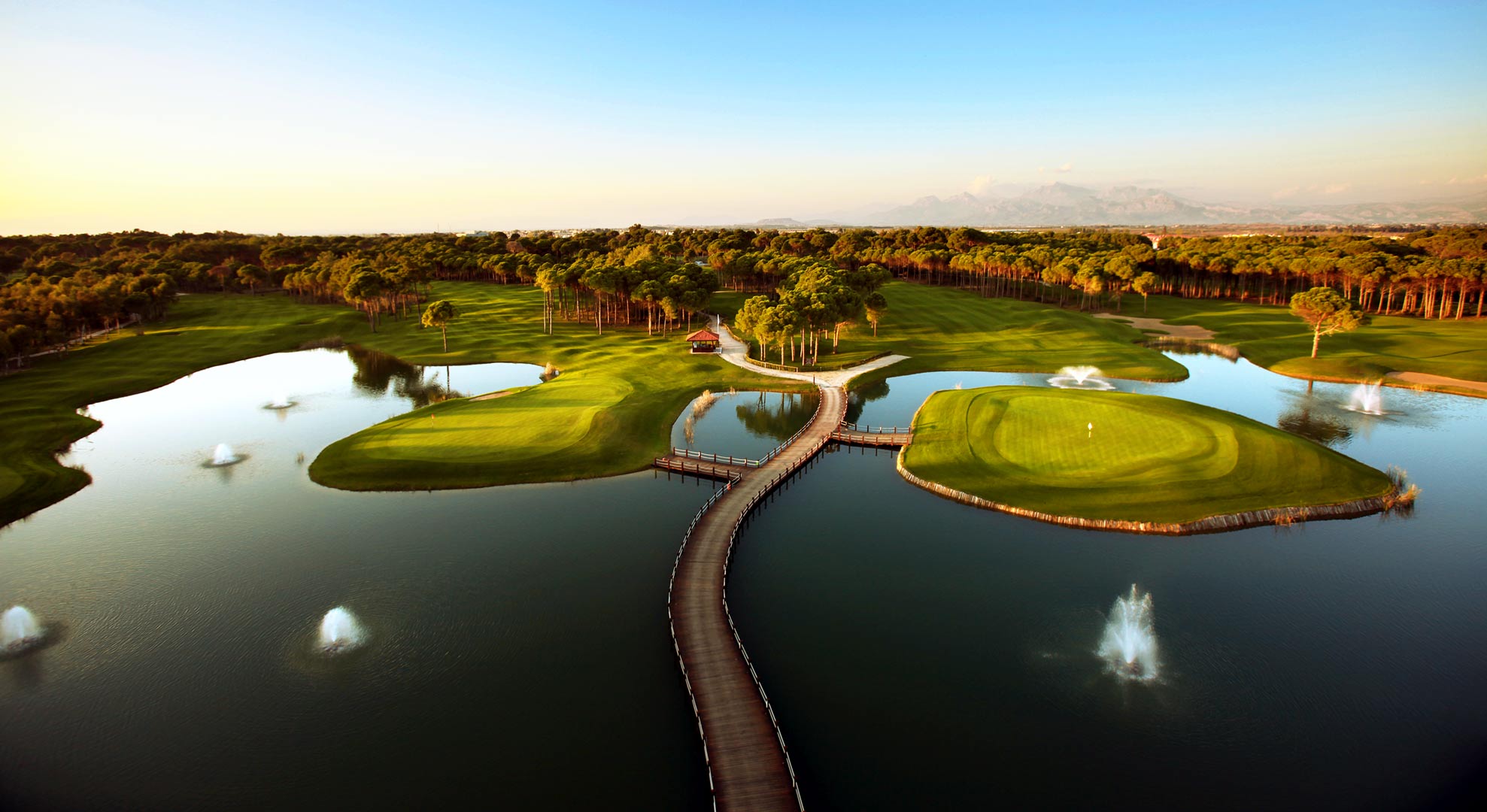 Sueno Hotels Golf Belek, was specially designed by PGA Design Consulting on an area covering 1472 acres among lakes and pine forests in harmony with its natural surroundings. It includes two 18-hole Championship courses. The 72 par and 6413 metre long Pines course and the 18-hole, 69 par, 5643 metre long Dunes course opened in October 2007. Sueno Hotels Golf Belek has 19 lakes and water hazards; greens approx. 700 square meters, parkland links-style fairway, and white, yellow, red, and blue tees. It has 71 fairway bunkers, 48 greenside bunkers, and 9 waste bunkers, adding up to 128 bunkers in total. Because of Belek's mild climate Sueno Hotels Golf Belek has a long golf season and hosts various national and international golf tournaments.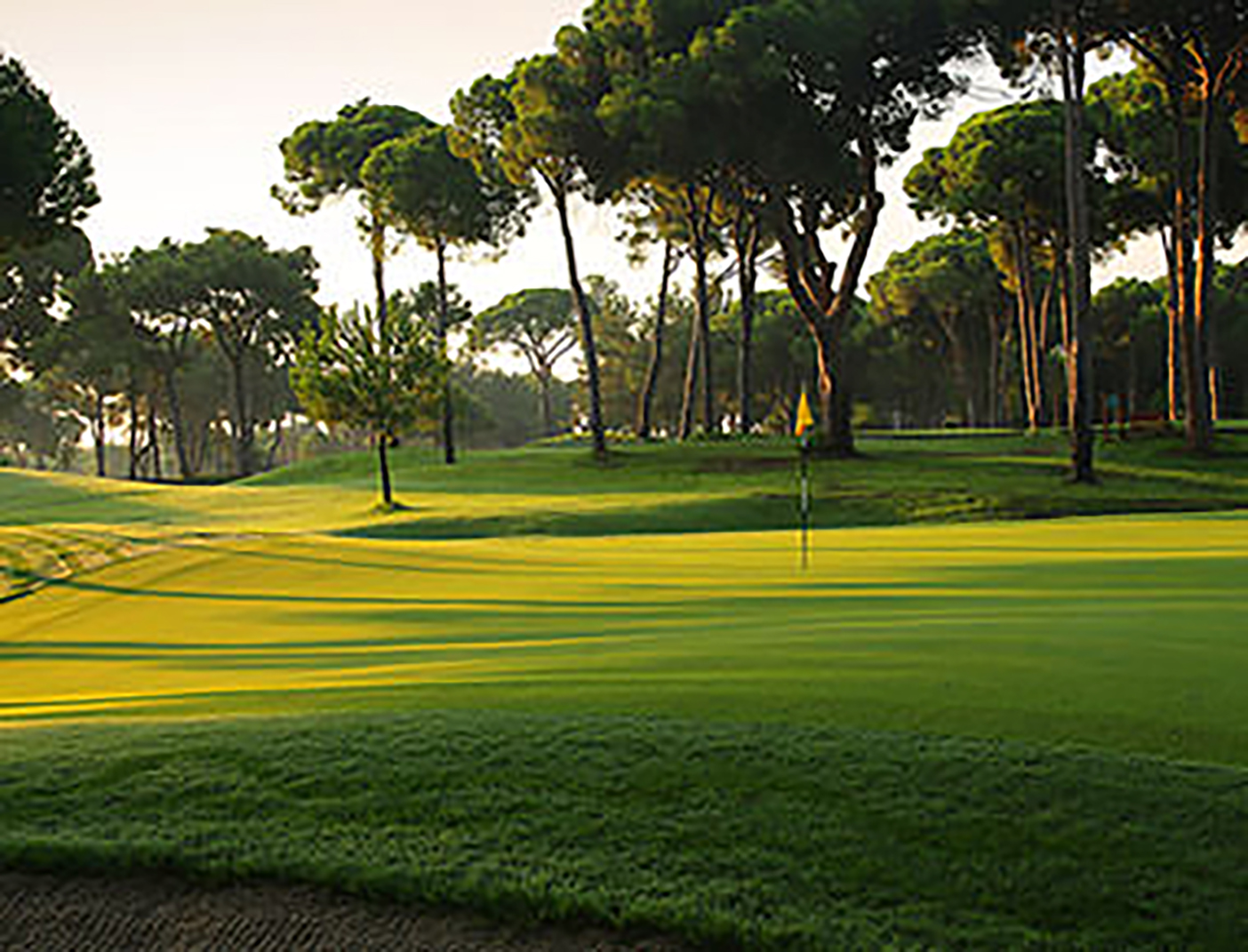 The Gloria Golf Club was opened in 1997, but in 2005, after the opening of the 18-hole Gloria New Championship course, it moved to its new location and building. The Gloria Golf Club, with its 18-hole Gloria Old Championship course, 18-hole Gloria New Championship course, and 9-hole Gloria Verde course, is situated between the 45 hole championship courses. Just adjacent to the club building, on a west-south line there is a 48 bay 2 tier driving range approximately 26,000 square meters in area. There are 5 pitching and chipping greens next to the club building, and a putting green of more than 800 square metres. In the Gloria Golf Club the handicap for both men and women is 36.
CORNELIA GOLF CLUB / NİCK FALDO GOLF CLUB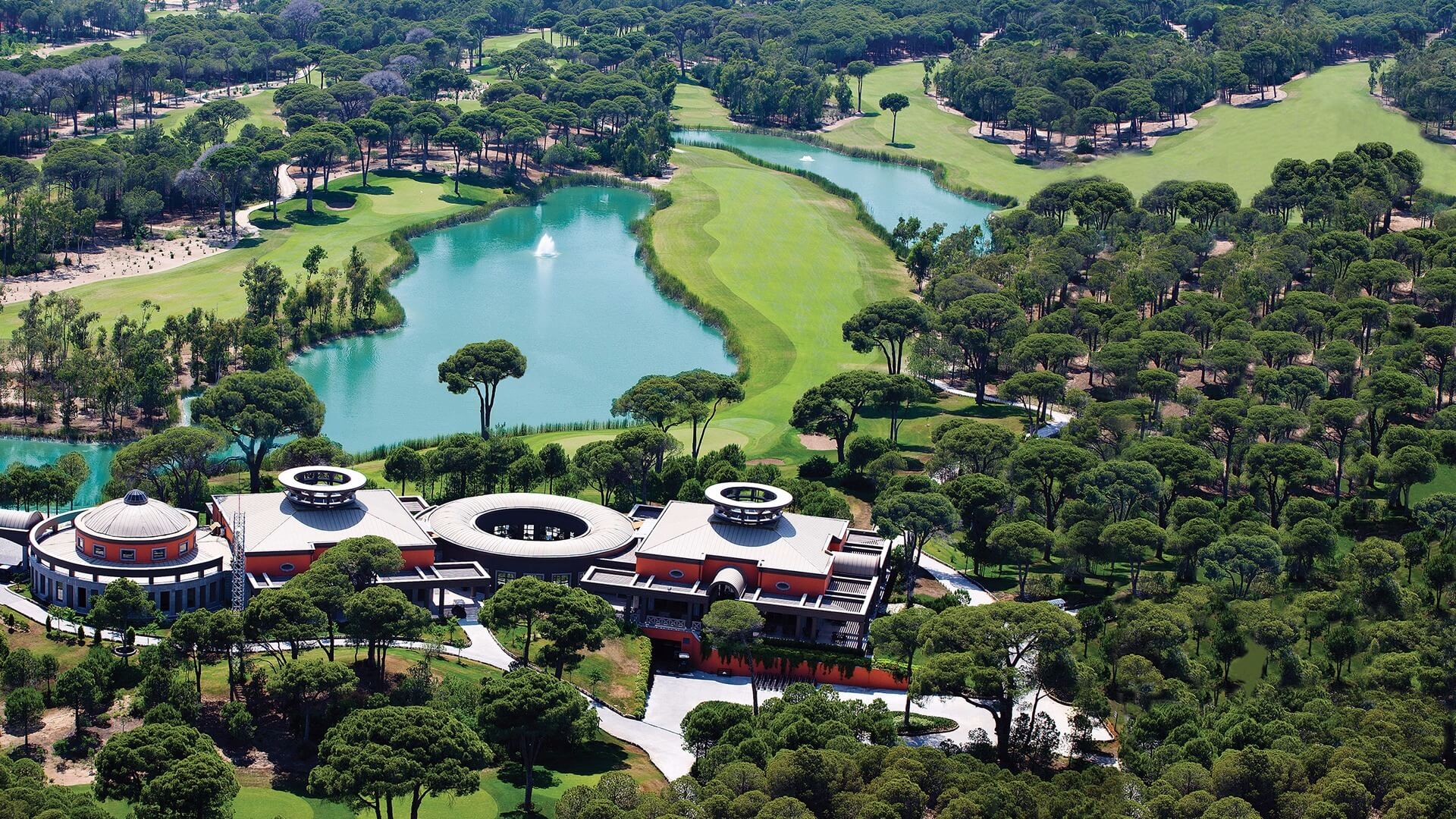 Cornelia Golf Club Cornelia Diamond Nick Faldo Golf Course is built on a 14,000,000 square meter area that includes pine forests and sand ridges, offering a fantastic gaming experience. It is situated in a natural environment with lakes scattered throughout the course. The three 9-hole courses that connect to each other are the 72 par and 6,373 metre King Course, 72 par and 6,411 metre Queen Course, 72 par and 6,324 metre Prince Course. These were all designed by the renowned six-time Major winner Nick Faldo.  In 2008, the Cornelia Diamond Nick Faldo Golf course was chosen as Europe's 14th best course and was selected among the 50 best golf courses in the world by Newsweek Magazine.
THE MONTGOMERIE MAXX ROYAL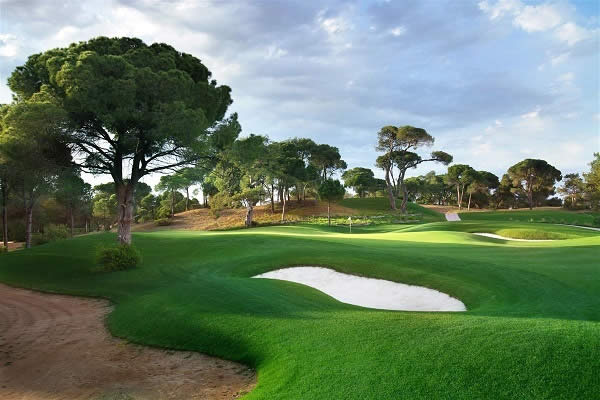 This course was designed by Colin Montgomerie, one of the most accomplished players the sport of golf has seen, on a 104 hectare property covered with pine forests and sand ridges, and which also carries his name. The Montgomerie Maxx Royal Golf Course was opened on 1 October 2008 and is challenging and gently sloping with numerous of strategic options.  The natural sandy ground was taken into account when designing and laying out the course, and these features were maximally utilised. The 18-hole course 72 par course is 6486 meters, the tees are approximately 600 square metres per hole and the average per green is approximately 600 square metres. The Montgomerie Maxx Royal course has 8 lakes on its grounds and its close proximity to the sea provides local and foreign golfers a welcome change from other golf courses.
ROBINSON GOLF CLUB / NOBİLİS GOLF CLUB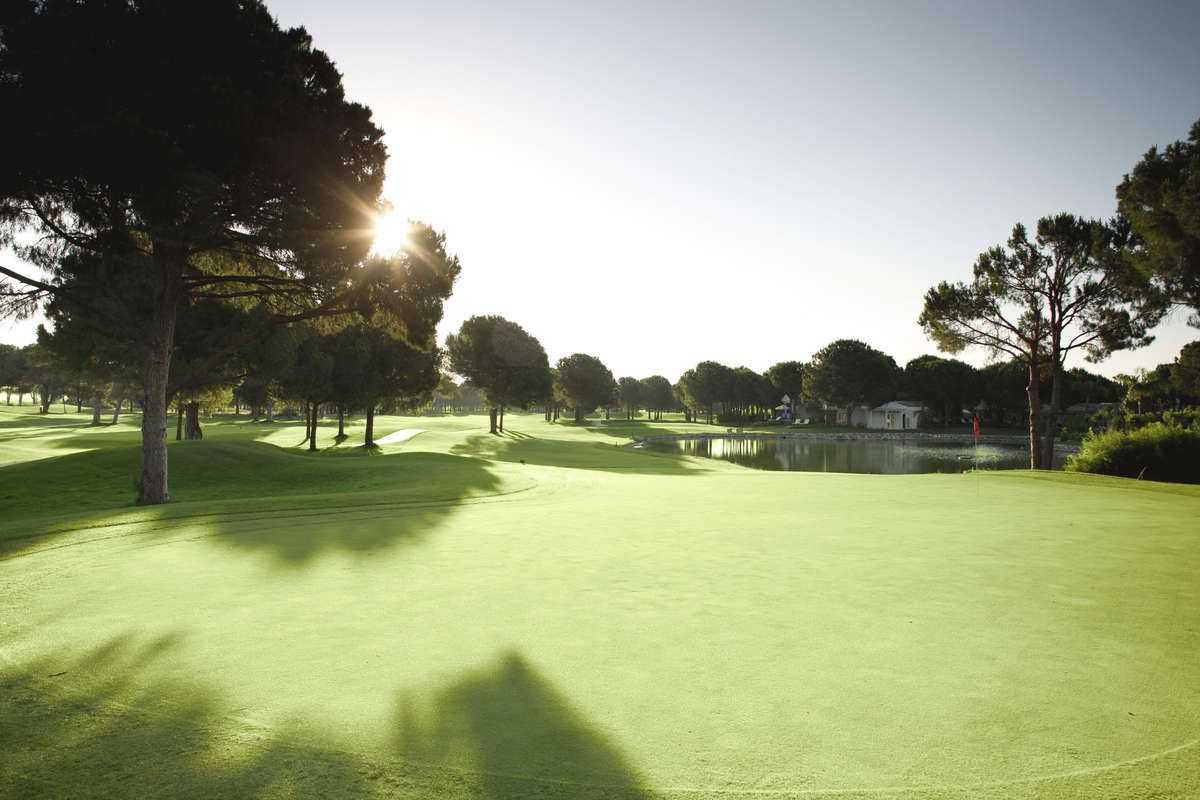 World famous British golf player David Thomas has created the Robinson Golf Club Nobilis, set within a natural pine forest, and covering 750 acres. The Championship tee is 5103 metres. The fairways are wide and many rough-terrain areas have been left. The grass used at the golf course is suitable for colder climates and with the undulating and diverse greens it differs from other courses. The average green size is 600 square metres. It has one of the best playing surfaces among championship golf courses. This 18-hole par 72 championship course offers golf players an enjoyable experience with its stunning views, especially the lakes on the grounds of the golf course and the Acısu River that flows to its east. The club has the only floodlighted practice area in the region, which allows golfers to play in the evening. It was chosen as the ninth best golf course in Europe by Golfers Magazine in 2000 and the world's seventh best golf course by Golf Journal in March 2003.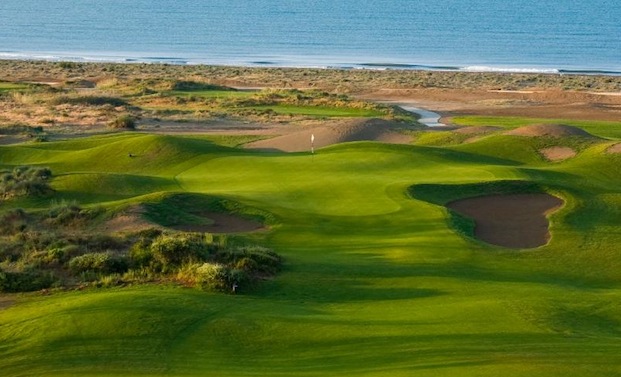 LykiaLinks Antalya was designed by the award-winning American golf architect Perry O. Dye. The course is located on an 80 hectare area that is both challenging and rewarding for golfers. The golf course was planned to make best use of the natural setting and ground advantage. Its location by the sea and the ability to play golf facing the waves and the mountains earned it a place in the "World's 100 Best Golf Courses" list of the British Golf World magazine in 2012. The 18-hole course is in excess of 6950 meters and plays to a par of 72. Each course has 5 black, yellow, blue, red and green tees, natural dye-style bunkers, and challenging and undulating fairways that incorporate many strategic options which require Scottish style "punch and run" shots. In fact, the course was inspired by famous Scottish golf courses.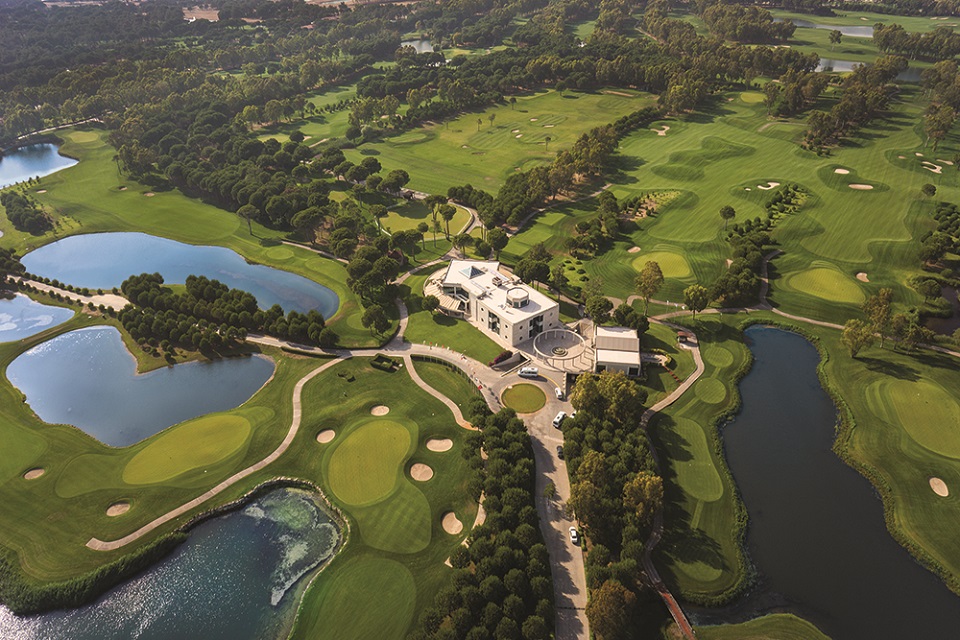 Antalya Golf Club, a sister company which is a walking distance away from Sirene Belek Hotel and provides service on a field of 1350 decares, consists of PGA Sultan and The Pasha courses.
Projects of both courses were prepared by the world-famous European Golf Design, one of the best project-golf design companies of Europe.  David Jones, a famous professional golf player, provides consultancy service for the courses.
PGA Sultan Championship course is 71 par, while the course length is 6477 metres; Pasha course, however, is 72 par and its length is 5731 metres.
The guests accommodating in Sirene Belek Hotel have the opportunity of privileged booking and price in Antalya Golf Club courses.